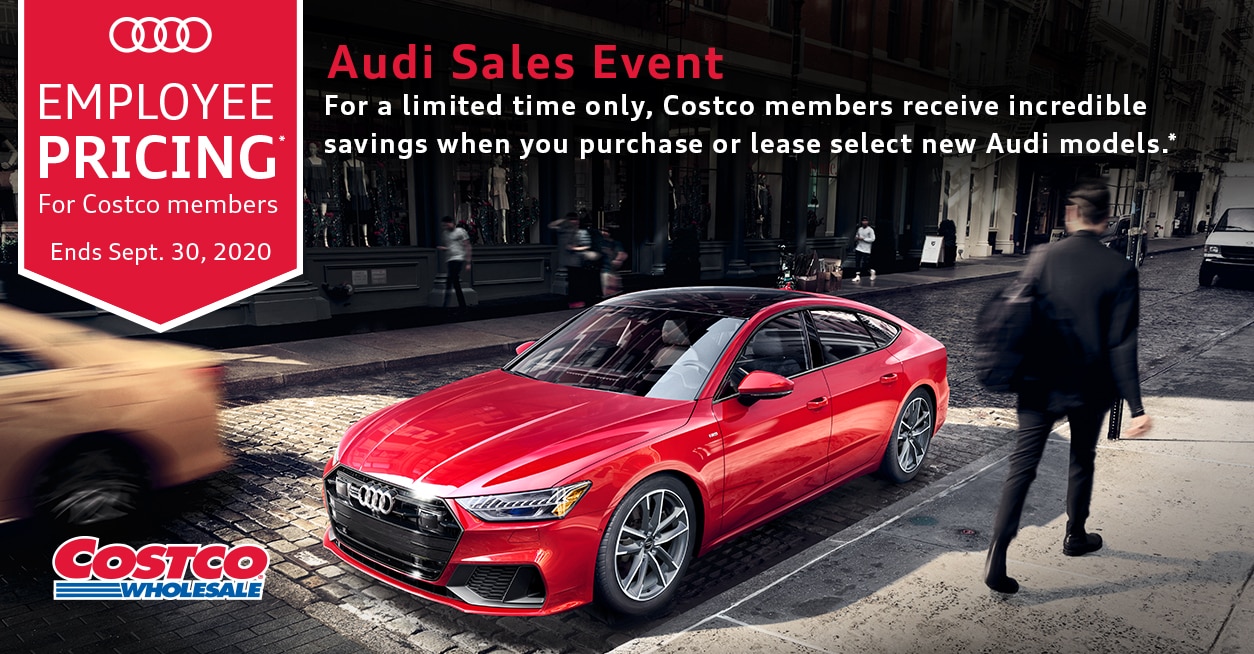 We are pleased to announce an all new way to save! For a limited time only, 
Costco members can gain access to pricing reserved for Audi employees on select Audi models. This Audi Sales Event includes select 2020 Audi SUVs, sedans, sportbacks, coupes, and convertibles, along with the all-electric 2019 Audi e-tron.* 

* To qualify for the Audi Sales Event, you must: (1) be a current Costco member by June 30, 2020; (2) register with Costco Auto Program online or through its call center; (3) present your unique 8-digit alpha-numeric Authorization Number to a participating dealership at the time of visit; and (4) purchase or lease an eligible, new 2019 Audi e-tron, or a 2020 Audi A4, A5, A6, A7, A8, Q3, SQ5, S4, S5, S6, S7, S8, TT or TTS between July 1, 2020, and September 30, 2020, or a 2020 Audi Q7, Q8, SQ7 or SQ8 between July 25, 2020, and September 30, 2020, to receive Audi employee pricing. This limited-time special excludes Audi A3 Sedan, Q5, R8, RS3, RS5, RS7, RS Q8 and TT RS models, and is not compatible with some Audi programs and incentives including: (1) corporate sales; 2) VIP; 3) courtesy vehicle; 4) dealer small fleet incentives; and 5) dealer employee purchase. Authorization Numbers are not transferable. Valid only through participating dealers. Dealer sets actual price. The Audi employee pricing is equal to 10% off MSRP and it does not include tax, destination, title, license, dealer-installed options, accessories and dealer fees. Valid only to whom the unique promotion is addressed. Name provided at time of registration must match name on driver's license. Vehicles sold in the name of a business will be verified against the primary purchaser's driver's license to ensure eligibility. Only one promotion per VIN will be accepted and the combination of multiple Audi Sales Event Authorization Numbers is prohibited.
For Costco Shop Card eligibility, purchase or lease an eligible, new 2020 Audi between July 1, 2020, and September 30, 2020: (1) A4 Sedan, S4 Sedan, A4 Allroads, A5 Coupe, S5 Coupe, A5 Sportback, S5 Sportback, A5 Cabriolet or S5 Cabriolet to receive a $500 Costco Shop Card; or (2) A6 Sedan, S6 Sedan, A6 Allroads, A7 or S7 to receive a $750 Costco Shop Card. Please allow eight weeks for Costco Shop Card delivery, pending completion of all eligibility requirements; including purchase of an eligible vehicle at Audi employee pricing, redemption form submission, purchase verification from Audi and survey completion. Costco Shop Cards are not redeemable for cash, except as required by law.