Buy or Lease New Audi e-tron SUVs Near Los Angeles
Meet the Audi e-tron
®
, the only electric SUV built with Audi DNA. With ample space for everyday life, long-range capability and exhilarating performance with quattro
®
 all-wheel drive, this is way more than an electric car. 
This 
is electric done the Audi way. 
With spacious interior, next-level luxury, smartphone integration, and an easily intuitive infotainment system, you are sure to love this all-electric addition to the Audi lineup!
Charging. Engineered to go the distance. 
Charge at home and on the go. The Audi e-tron is designed to be charged in ways that best suit your needs and is equipped for both home and public DC fast charging. More than 16,000 electric car charging stations and 50,000 charging outlets make it easy to recharge on the go. These high-speed public chargers can provide
up to 80% charge in 30 minutes.

Performance 
Pure Audi performance without compromise.New electric 
quattro
®
 all-wheel drive brings electric power to the streets, providing exceptional control and confidence in all kinds of driving conditions. 
Power High performance horsepower with boost engage technology
Speed 0-60 mph in 5.5 seconds
Maximum Tow Rating 4,000 lbs when properly equipped
Suspension Five modes, including off-road
Premium Interior
Welcome to next-level luxury. The Audi e-tron offers premium class comfort with an elegant interior design, ample room and fleet of driver-centric technologies designed to elevate the driving experience.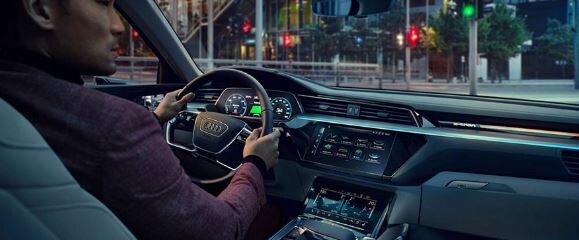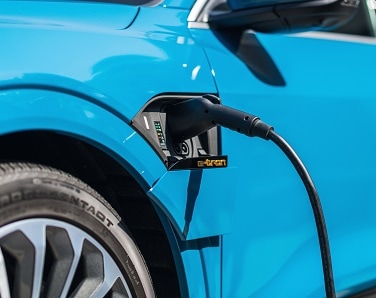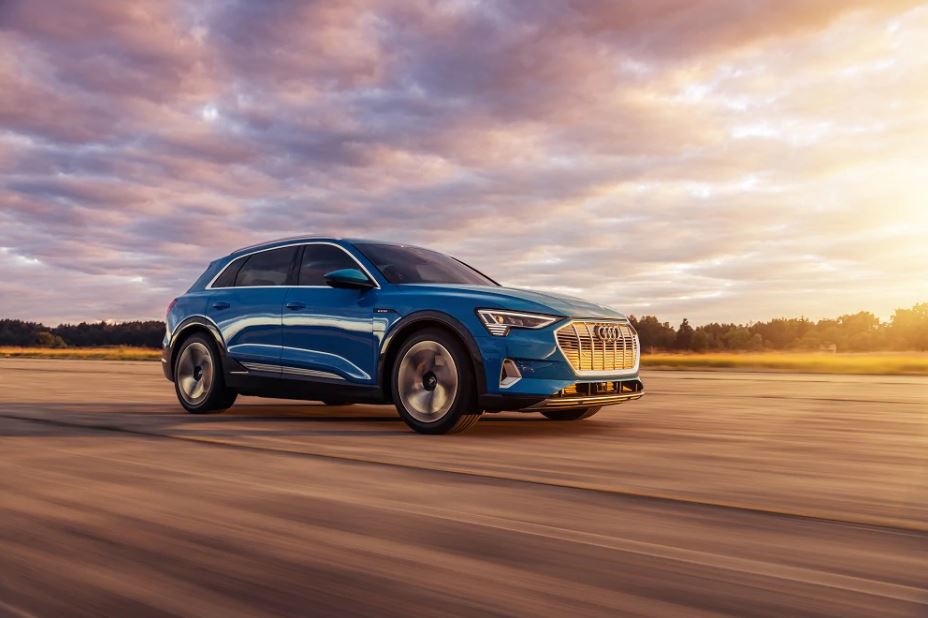 User interface
Intuitive touch screen displays allow the driver to connect with a range of technologies and services.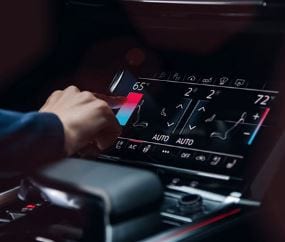 Exterior Design
Eye-catching and electrifying, the Audi e-tron boasts a strong-yet-sleek SUV design, 
while the two electric motors deliver superior performance. 
With stunning details like LED taillights and an innovative Singleframe
®
 grille, the Audi e-tron is set to light up the road. An aerodynamically-optimized design with a low drag co-efficient of 0.30 helps get the most out of every charge. Masterful sound-proofing, available dual-pane windows and a near-silent motor mean a sublime ride from start to finish.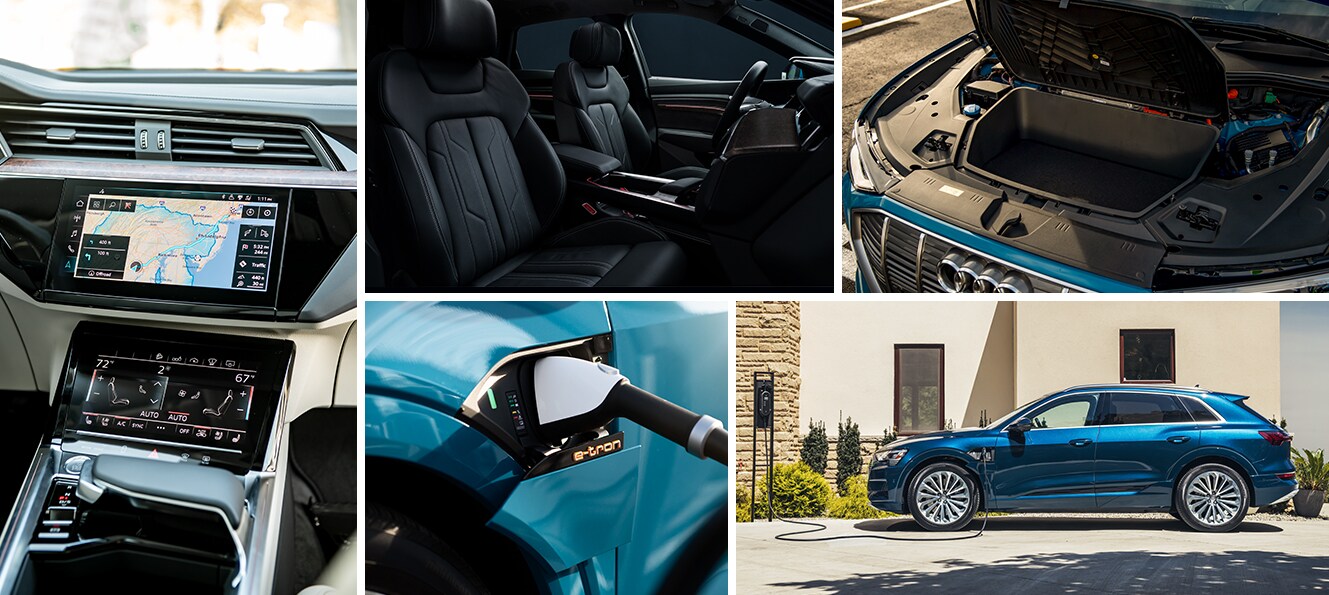 Save Money and the Planet by Driving One of the New Audi e-Tron
The new Audi e-Tron quickly gained popularity upon the vehicle's initial introduction thanks to the spacious, comfortable and luxurious cabin. Passenger enjoy a smooth, quiet ride. User-friendly technology and an energetic powertrain are also positive selling features. The e-Tron plug-in electric vehicles appeal to individuals who choose to reduce their carbon footprint and reliance on fossil fuels. Thus, [GEO] owners also save money by not having to purchase gas. A variety of trim levels and optional amenities ensure that consumers find the e-Tron that suits their tastes and desires.
The New Performance
Each of the Tron vehicles is powered by two electric motors and a 95-kWh Li-on battery pack that generates an impressive 355 hp and 414 lb.-ft of torque. Selecting the Boost mode while driving increases the output to 402 hp and 490 lb.-ft of torque for a short period of time. The Audi e-Tron capably goes from zero to 60 mph in 5.5 seconds. Add in the towing package to the SUV and comfortably pull up to 4,000 pounds.
When plugged into a household-style 240-volt outlet, the Audi e-Tron fully charges the battery pack in nine hours. Level 3 or fast charging station fill the battery up to 80 percent capacity in just 30 minutes.
Trim Level Highlights
Audi e-Tron base Premium models at our dealership are available as an SUV or a Sportback to make sure you can drive around Glendale in style. The vehicle rides on 20-inch wheels for a stylish ride. Each option accommodates up to five passengers and has four doors. Occupants front and back have more than adequate head and legroom. The rear of the vehicle provides up to 28.5 cubic feet of storage space. Folding the rear seats provides 56.5 cubic feet of cargo room.
Owners get proximal keyless entry and an electronically powered hands-free liftgate. The cabin interior is upholstered in plush leather. The front seats are power-adjustable and heated for comfort in colder weather. The steering wheel can also come with a heating option. The unique infotainment system comes with dual 8.6-inch and 10.1-inch touchscreens. The system can integrate your smartphone seamlessly and also utilize navigation. Furthermore, you will enjoy both HD radio and satellite radio for your listening pleasure! Two USB ports keep devices powered while Bluetooth® enables internet access. Drivers also get a charging port. The automatic climate control system regulates four zones to ensure the comfort of all occupants. Everyone enjoys the enhanced view provided by the electronically powered sunroof.
The generous list of standard safety features includes:
Automatic high-beam LED headlights
Automatic emergency braking
Blind-spot monitoring
Lane-departure warnings
Forward collision warnings
Rear cross-traffic alerts
Front and rear parking sensors
Audi e-Tron Premium Plus models add ventilated front seats and heated rear seats bring a new sense of comfort for all passengers. The infotainment system gains an upgraded premium stereo system to bring new life and depth to your music. The driver and front-seat passenger get additionally charging ports. A 360-degree view camera system provides live images all around the vehicle, making backing up, parking and changing lanes safer. Additional safety features include adaptive cruise control, road sign recognition and lane-keeping assistance.
For the most luxurious option possible, the new Audi e-Tron Prestige models come with perforated leather interior seating. The front seats enhance comfort during long road trips thanks to the built-in massaging capability. Drivers gain a heads-up display in order to see vital information at a glance while continuing to watch the road. The rear windows have built-in sunshades.
Visit our facility and see our selection of new Audi e-Tron SUVs and Sportbacks that are ready to make driving all over the Arcadia and Alhambra areas. Ask about taking the vehicle of your choosing for a test drive and get a first-hand experience with something you dream of. Or, venture to our online website and reserve a test drive and even determine your current vehicle's trade-in value. Explore our current incentives and exclusive offers. Quickly learn your credit status by filling out and submitting a finance application.
Experience the New Audi e-tron GT in Pasadena
Incredible speed. Unfathomable torque. Amazing horsepower. All-electric? You bet. Harnessing the power of the green wave that is taking the world by storm, the all-new e-tron GT is Audi's all-electric luxury vehicle. With incredible speed, versatile tech features, and looks that turn heads, the e-tron GT is hot off the line and ready for action. From professional performance to incredible design, this track-ready machine not only looks the part but plays it, too. Please visit Audi Pasadena to learn more about our exciting new Audi e-tron GT models.
Performance Attributes of the New GT Model
The new Audi e-tron GT achieves a truly unforgiving 522 horsepower for your treks around Alhambra. With all this unrelenting power at its disposal thanks to a high-torque electric engine, it's no wonder that the e-tron GT actually achieves a zero-to-sixty speed in just 3.1 seconds. With that much acceleration, you'd better start looking for the nearest track near Los Angeles if you want to avoid getting a ticket.
Raw power isn't the only form of performance that the new e-tron GT takes. Powerful charging is, in fact, one of the e-tron GT's superpowers. In just 23 minutes, the e-tron GT can charge from a 5% battery all the way up to 80%, using a public DC fast charger.
Luxurious Design
Beauty alone doesn't begin to describe the exterior design of the e-tron GT due to the sheer amount of thought that went into each square inch. It combines the right number of curves and edges, geometry and abstract. Sharp, narrow-slit LED headlights sit just above the functional two-toned air intakes, which pair wonderfully with the iconic Audi logo sitting front and center above the hexagonal, honey-combed front grille. The hood even goes so far as to feature a U-shaped indention for maximal appeal and aerodynamics, with the electric charging port sitting right between the driver-side side-view mirror and front wheel.
The rear of the vehicle features an authoritatively long brake light that runs the entire length of the car, enhancing the crisp and bold stance that the e-tron GT already holds. It offers an electric rear spoiler that elevates stability at high speeds through downforce pressure, helping air flow through the flat underbody into a wide diffuser. The roof of the e-tron GT even features a fixed panoramic sunroof with carbon fiber for optimal performance as you cruise around Glendale.
As much as the exterior is a head-turner, the interior is just as marvelously modern and luxurious. The e-tron GT offers your choice of Dinamica and leatherette 14-way power-adjustable sport seats or the finest Nappa leather for a timeless look and feel. When choosing the Year One package, you even get access to prominent red seatbelts with honeycomb-stitching. Add that to a dynamic touchscreen interface with the steering wheel buttons you've come to expect from Audi, and what you get is a seamless experience updated to fit into the 21st Century firmly.
Innovative Technology Amenities
By far, the most unique feature of the e-tron GT is the expressive "e-sound" created to replace the typical gas engine roar that you've come to love. With e-sound, you get to adjust the level of exterior and interior sound that you crave, making it just as exhilarating as you want for your trips around Arcadia. Combine that with a Head-Up Display so that you never have to take your eyes off the road, and the result becomes sheer magnificence.
With even more features in store for the e-tron GT, you are welcome to visit Audi Pasadena to sit behind the wheel. You could take one of our amazing e-tron GT models for a test drive at your earliest convenience if you love any of these world-class features.
Due to ongoing parts shortage issues impacting global production, the availability of some equipment, options or features may be limited. Please contact your local Audi Dealer for more information, and be sure to verify the vehicle you purchase includes all expected features and equipment. Thank you for your patience as we work to navigate these limitations.