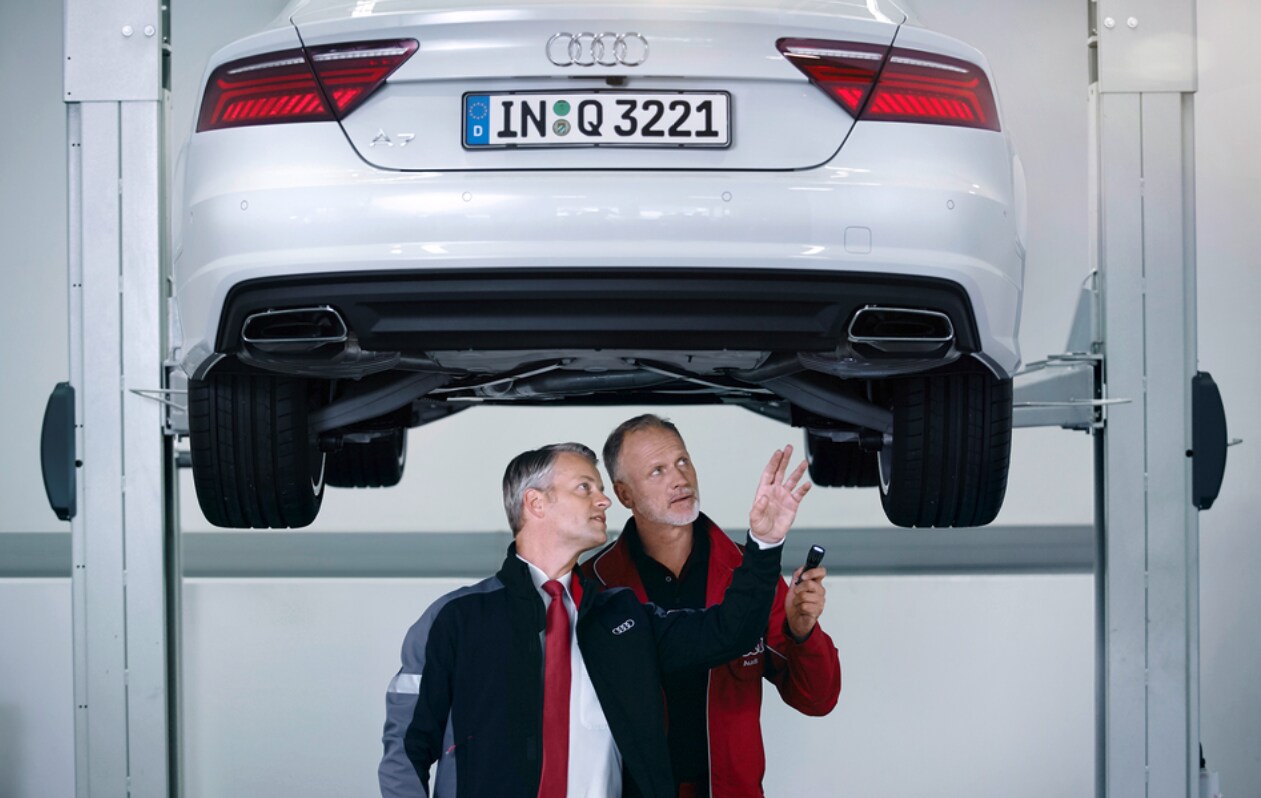 The Benefits of Factory Recommended Maintenance
Those Audi owners in the Pasadena area often come to us confused about what their regular maintenance schedule should be, such as how long they should go between oil changes and tire rotations. Here at Rusnak/Westlake Audi, we want to clear up any questions you might have regarding the regular service of your Audi coupe, sedan, or SUV.
While those driving around Los Angeles can certainly schedule these routine services individually, we suggest following the complete list of factory services to ensure your Audi model runs at its top performance.
Frequent Questions about Factory Recommended Maintenance
We've compiled a list of helpful information for Audi drivers in the Alhambra area to reference when scheduling their routine services.
How often should I get the full factory recommended maintenance completed?
When your luxurious, beloved Audi model was designed, a service schedule was designed alongside it, to keep it performing at its best abilities. This schedule covers a range of inspections and replacements that will naturally wear down with age.
If you've just purchased a brand-new model, expect your first service at around 5,000-miles, or one year after you bought it. If you've had your model for a while, you should expect to get the full menu of services once a year or every 10,000-miles.
It's important to note that these numbers might differ depending on your body style and model year. Give us a call if you have any further questions regarding your personal service timeline.
What does the service include?
You can expect the following during your factory recommended maintenance:
Oil check and change
Tire pressure check for wear and damage (including the spare)
Wiper blade check
Headlight and windshield washer check and fluid refill
Reset of the Tire Pressure Monitoring System
Brake system check for damage, fluid level, and brake pad wear
Complimentary car wash
General multi-point inspection
How long does the service take and what can I do while I wait?
When you come to your Rusnak/Pasadena Audi dealership's service center, we want to make sure that you experience ultimate comfort while you wait. We know how hectic life can get in the Arcadia area, especially for busy professionals and bustling families. That's why our staff puts an extraordinary amount of emphasis on providing efficient, accurate service.
This entire process will be completed same-day within a couple of hours and there are many things you can do while you wait. Our comfortable customer lounge houses coffee and pastries, an electric vehicle station, a convenient location near shopping centers, and free WiFi.
Get Your Factory Recommended Service Today near Glendale
Bring your Audi in for the service that will make it run at its peak performance. Our expert technicians specialize in servicing Audi models and take great pride in the excellent work they do. Our staff participates in frequent training to stay updated on all the latest models and genuine Audi parts.
Schedule your appointment simply online, or by giving us a phone call. All we need is a little bit of information about your vehicle, such as the model, year, and mileage. We'll take it from there. Your local Rusak/Westlake Audi dealership is your go-to place to ensure your Audi is running at its best performance.